State of the Art
---
Capturing a wedding on video is an art. The process demands a rare combination of technical and aesthetic sensibilities; a mix of geek and chic.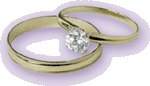 Our Canon XL1s cameras represent the height of technology. This means we never use obnoxious lights of any kind, and our pristine images look as much like film as you can expect from digital video.
Our inspirations are drawn from feature documentaries and independent films. We reign in awkward effects and transitions in favor of inherent cinematic style and attention to audio.
Blue 7 Media is prepared to redefine your expectations of a wedding video. Meet with us. Together we will create a tasteful and evocative documentary of your first day of marriage.